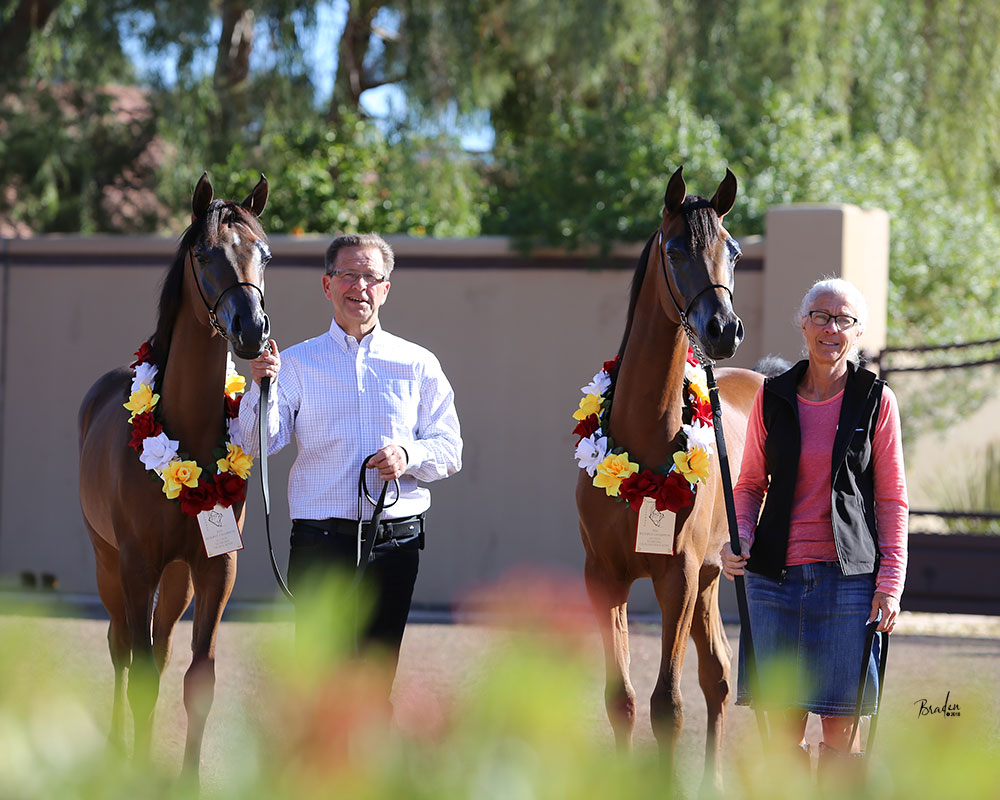 Murray and Shirley Popplewell have an asset in very short supply in the Arabian horse business … Patience. Just about the only thing that Popplewells have done in haste during their fifteen or so years in the horse business was to purchase their handsome bay herd sire, Bey Ambition.
Bey Ambition (Regal Actor JP x Bey Shahs Lady by Bey Shah) immediately proved himself worthy of that haste by winning the Two-Year-Old Junior Colt class at the Las Vegas World Cup that same week and then by going on to end that show season as the Region 17 Champion Stallion and the 2008 Canadian Reserve National Champion Two-Year-Old Colt. By the close of his Halter show career in 2011, Bey Ambition had achieved the highest honors against the finest stallions of his generation. He was the 2009 U.S. National Champion Futurity Colt and the Canadian Reserve National Champion Futurity Colt, and then, the U.S. Reserve National Champion 4 & 5-Year-Old Stallion. The crowning moment came in the summer of 2011 when Bey Ambition brought the title of Canadian National Champion Stallion home to Saskatoon.
For Bey Ambition to win trophies and roses and accolades was a great thrill for Murray and Shirley but not nearly as important as the test to come … would he be a great herd sire as well as a great show horse for Rae Dawn Arabians?
If there were any doubts about Bey Ambition's future as a breeding horse, his first three foal crops put them immediately to rest. His offspring have proven to be remarkable, balanced and beautiful. Nearly all have been bay with minimal white. They arrive and stand on long, well-formed legs with refined, gracefully arched necks and elegant carriage.
Their temperaments are friendly, inquisitive and eager to please. They take to the show ring with pleasure and pride. The February Scottsdale Show in Arizona has become an important social debut for many of the Bey Ambition babies.
Established in 1997, Rae-Dawn Arabians has become a labour of love and a work in progress. Owners Murray & Shirley Popplewell have focused their energies to developing an exceptional breeding program with a solid foundation of select mares who have been bred to Multi-National Champion Stallion Bey Ambition. With a world-wide reputation of high quality bloodstock, Rae-Dawn Arabians has quickly become a premier show and breeding farm in the world, with farms located in Saskatoon, Saskatchewan, Canada and Scottsdale, Arizona, U.S.A., showing, marketing, and producing beautiful Arabian Horses with exceptional movement and charisma.